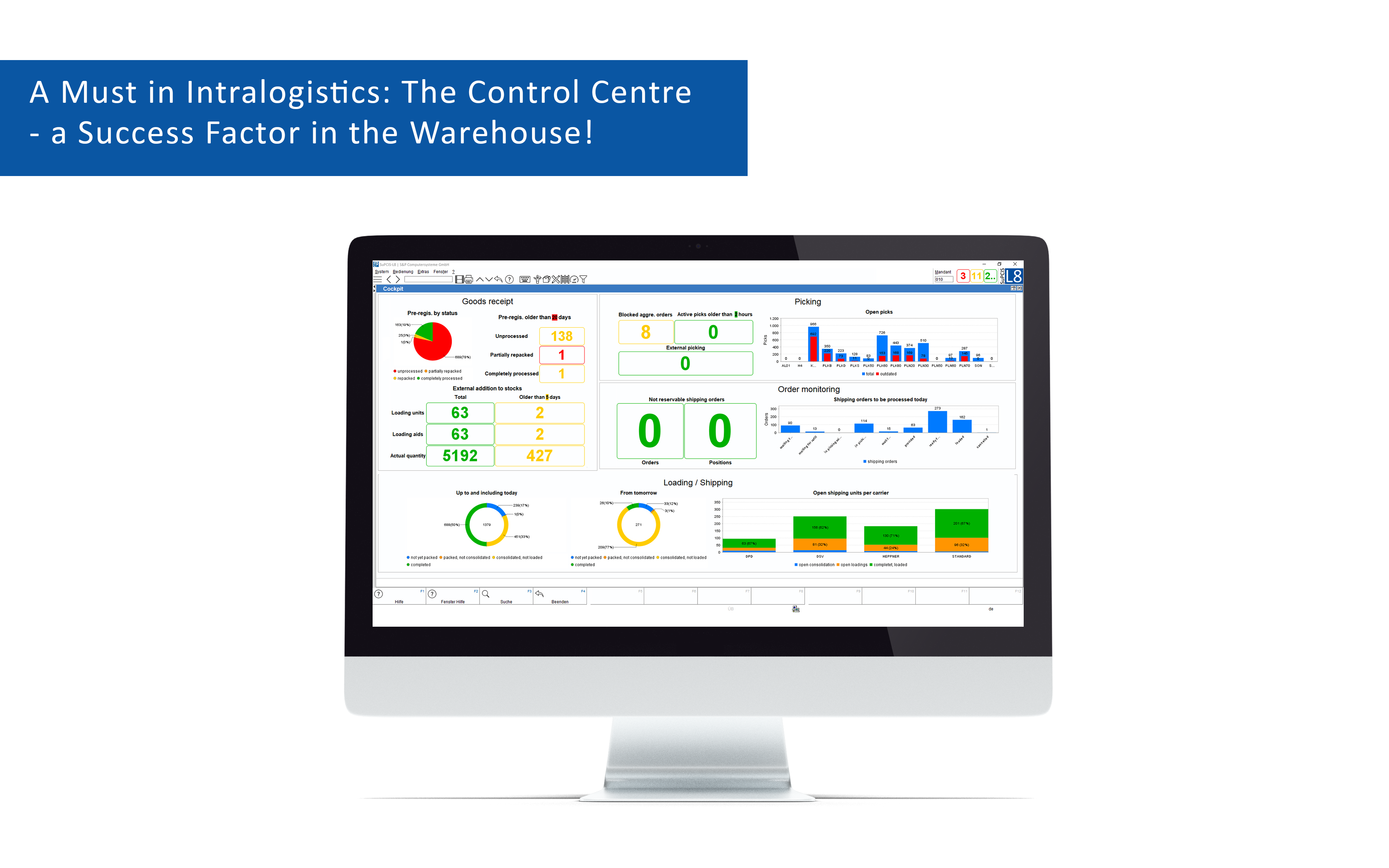 The intralogistical processes and procedures in the warehouse can just be as good as they are – but when the flood of information in the warehouse increases or even gets out of hand, you often reach your limits and rightly ask yourself: "How are you supposed to keep an eye on all the data in the process?" Definitely not a piece of cake, but for every challenge there always is a solution!
For companies that always want to have a clear and complete overview of the logistical processes in their warehouse, the SuPCIS-L8 control centre is an efficient and reliable information tool. How many orders have to be picked by 4 p.m.? What is the total current order volume? What is the current progress in shipping? Are there any disruptions within the warehouse and if so, where? These questions and many more can be answered quickly and easily by the control centre. In other words, the control centre creates a clear and transparent overview of the logistical processes and procedures in the warehouse and thus provides the basis for optimising them.
The control centre is a central component of our warehouse management system SuPCIS-L8. The SuPCIS-L8 cockpit makes it possible to have an overview of all data at any time and at any workstation. Fully integrated into the WMS, the cockpit offers the user individually configurable dashboards for the control centre. All relevant data, updated in real time, is displayed here, such as open storage orders, the current storage location occupancy, the current warehouse fill level, the current order statuses. However, this does not only include the current processes, states and situations of logistical processes. It is also possible to view the historical data of the individual key figures, which can be used, for example, to derive valuable insights for future planning. Thanks to the flexible framework, the individually defined key figures can also be configured for individual dialogues. In this way, any backlogs in the warehouse areas can be detected by the employees themselves at an early stage.
The integrated message centre also visualises critical situations on the part of the system technology or logistics in a clear form. In this way, possible faults in the warehouse can be quickly recognised and the necessary measures can be initiated as quickly as possible to get the critical situations under control again in a timely manner.
Thus, the control centre forms the basis for operative and strategic decisions, makes potentials transparent and supports companies in the continuous analysis and productivity increase of your warehouse.
Would you like to know more details? Don't hesitate to contact us!